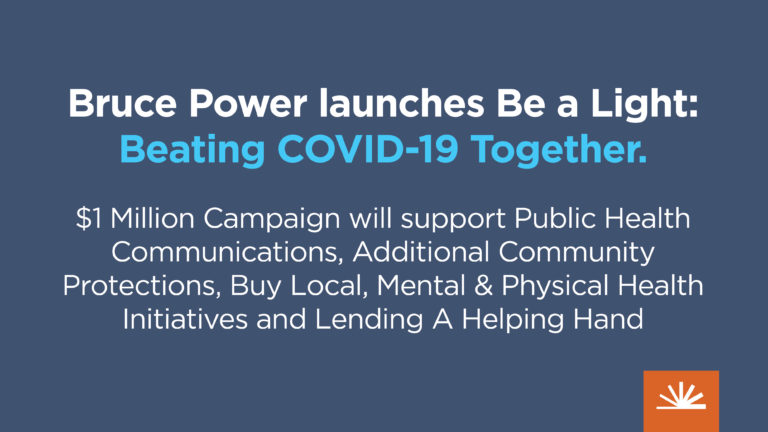 Be a Light: Beating COVID-19 Together
During this extremely challenging time facing COVID-19, Bruce Power continues to put into place preventative measures to protect employee safety, and ensure we have plans in place to safely and reliably provide the province with electricity.
Bruce Power is doubling down its commitment to slow the spread of COVID-19 and is contributing $1 million to Bruce, Grey and Huron over the next six months, starting in November.
Bruce Power's efforts will focus on the following five areas:
Public Awareness using?community newspapers, radio stations and social media to reinforce the guidance from public health officials to stop COVID-19.
Providing Protection by providing temperature monitoring and other technology, along with PPE in higher risk areas throughout the community.
Supporting Buy Local? ?through a $50,000 investment to further leverage the Grey-Bruce-Huron Strong platform and amplify the Buy Local effort.?
Mental and Physical Health. Bruce Power will support community organizations which promote physical and mental health activities.
Lending a Helping Hand. Bruce Power will be working with food banks, long-term care facilities and community organizations to provide support.
Mental Health Resources
It's okay to not be okay. Find mental health resources and support under For Employees.
Supplier Communication
Bruce Power Suppliers can stay up to date on recent communications and news here.